Sambir Elevator LLC
- this is a modern mechanized complex, which is equipped with the latest equipment from leading manufacturers.
In the process of grain acceptance and storage LLC Sambirsky Elevator provides a full range of services:
conducting analyzes and laboratory tests;
determination of grain quality
grain weighing
primary cleaning of cereals
drying grain;
Secondary grain cleaning;
protection of the grain from pests, if necessary disinfection of the grain;
active grain ventilation;
grain cooling;
removing mechanically damaged or small grain;
operative shipment on railway cars, with a possibility of route shipment;
other grain refinement services.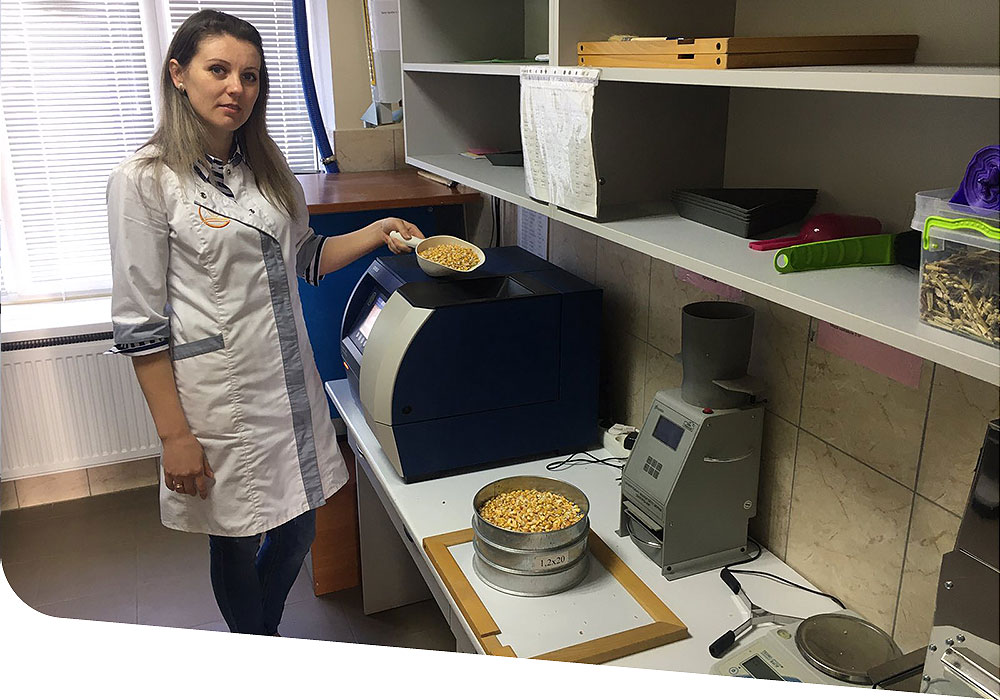 Production and technological laboratory
When it comes to product quality assurance, responsibility grows many times over! The production and technological laboratory of Sambirsky Elevator LLC is a perfect, result-oriented system located in administrative-laboratory building and equipped with the most up-to-date equipment, instruments and high-precision measuring equipment:
PFEUFFER Rakoraf mechanical samplers;
Divided by PFEUFFER Vario 2H;
SES-ZMK (electronically controlled) drying cabinets;
Infratec 1241 grain analyzers;
devices for determining the fall number of PPP-7;
analytical, laboratory weights;
Purkeys of liter PC-1 and PC-2;
VDK-7 gluten strain gauges;
De Aqueducts.
In addition, the laboratories are equipped with facilities and software for the electronic processing of quality documents. All information is entered into the system of quantitative and qualitative accounting of grain.
Certified conditions for grain storage and quality assurance:
Certificate for Food Safety Management System. Requirements for any organizations in the food chain (registered in the register of OS of TESTMETRSTANDART LLC);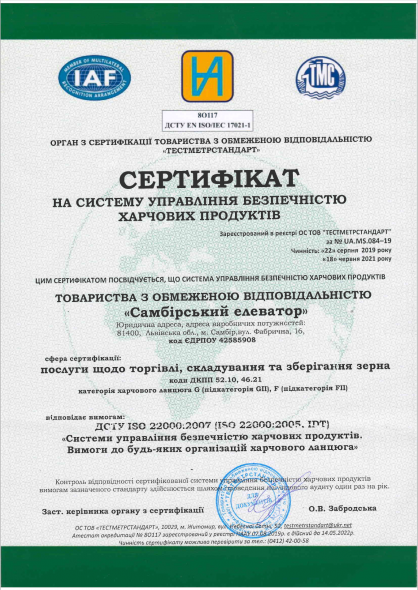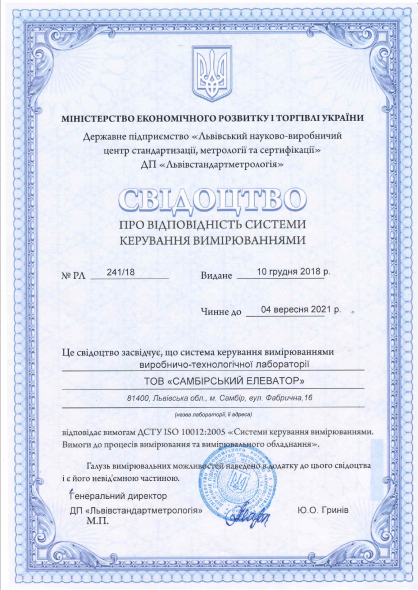 Certificate of conformity of the measurement management system. This certificate certifies that the measurement control system of the production and technical laboratory of Sambirsky Elevator LLC meets the requirements of DSTU ISO 10012: 2005 "Measurement Management Systems. Requirements for measurement processes and measuring equipment »
×
>